30 June 2020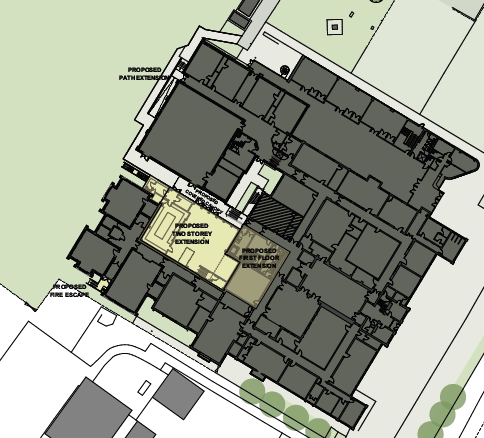 Newport Girls' High School is delighted to have been successful in a bid for £2.3m to fund the building of a new dining hall, kitchen, science laboratory, computer suite and four additional classrooms. Supported by Baart Harries Newall of Shrewsbury, we submitted a planning application in late June 2020.
The new building will cater for 30 additional pupils per year over the next five years and the site of the new building will be in a courtyard to the rear of the school. As the plans and elevations show, the new building will be barely visible to anyone who live close to the school, but will provide much-needed catering and specialist learning facilities as well as improved access to the site. The school also intends to increase the scope for parking with the redevelopment of land to the north of the school site. The school will work with the contractor to minimise disruption with site deliveries during the construction phase.
Headteacher, Michael Scott, commented: In our centenary year, we are delighted to have been recognised by the government under the Selective Schools Expansion Fund (SSEF) for future investment. Our OUTSTANDING Ofsted report in 2019, coupled with our place as the West Midlands Secondary School of 2020 make NGHS a very popular choice for Year 6 girls. Our new admissions policy from 2021 includes the provision of 30 extra spaces at NGHS (whilst still remaining a medium size 4 form entry school) and the new facilities not only improve specialist STEM teaching spaces, but also offer our girls a much improved dining facility as well as the provision of a new performing arts space within the existing building. We also look forward to improving social mobility by widening our admissions policy to include places for pupils who are supported by the Pupil Premium fund.
Drawings for the new extension can be found below.