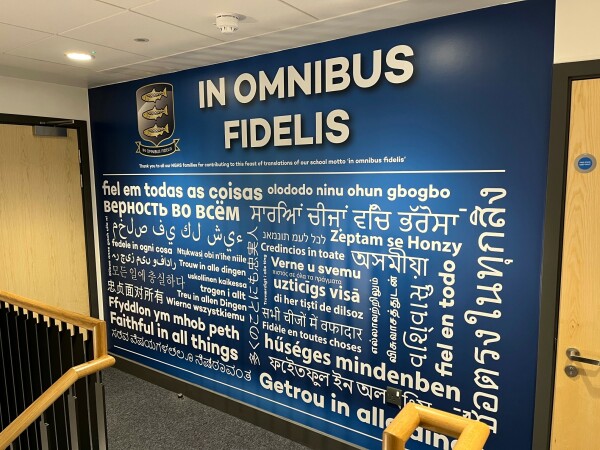 The aims of the Newport Girls' High School can be summarised as enabling each pupil to seek excellence in all aspects of life:
To provide a community in which pupils achieve their full potential in academic, aesthetic and sporting spheres.
To provide a community in which pupils develop personal values which enable participation in a caring society.
To provide a community in which pupils learn to recognise their responsibilities in the local, national, international and global environments.
Student Ethos and Values
Our school is a community of learning and we work hard to...
RESPECT EQUALITY

Respect each other's right to learn.
Follow the school's behaviour guidelines and show respect for school property and our surroundings.
Value and celebrate others' contributions in lessons and other school activites.
Treat one another with dignity and respect.
Accept individual differences and support one another with patience and compassion.

FRIENDSHIP

Actively help to integrate new members to the form and to school.
Show commitment and courtesy to others.
Look for opportunities to get involved in school/House activities to forge links within the school community.

CONTRIBUTE

Put our best effort into our studies and allow others to also achieve their potential.
Take pride in our work and in our School overall.
Utilise the opportunities to show our talents and help others to develop theirs too.
Encourage and participate in form, House and community activities.
School Development Plan 2021-2022
The annual School Development Plan details a range of improvement strategies covering all aspects of the school. It ties in with the School's overall aims, ethos and vision and is written by the Senior Leadership Team with input from and approval by the Governing Body.
The SDP is divided into four key strands with members of the senior leadership team and governors assigned to each. In the academic year 2021-2022, the four strands are:
| | |
| --- | --- |
| DPO1 | To develop a culture of research-based innovation to enrich teaching and learning provision at NGHS. |
| DPO2 | To facilitate growth in wellbeing, resilience and social awareness across our school community. |
| DPO3 | To provide academic reassurance and maximised opportunities so that all learners achieve their full potential. |
| DPO4 | To continue to widen opportunities for collaboration and partnership with local and national organisations. |