10 October 2023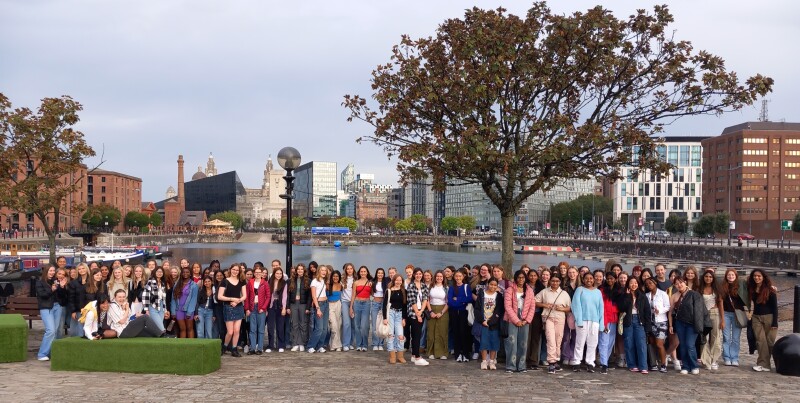 We have over 120 Year 12 pupils this year and the annual visit to Liverpool is a highlight in the calendar to enable new friendships to be formed and the year group to bond. 2023's visit was no exception as you can see from the report below....
The atmosphere on Friday 6 October was one bristling with anticipation, with near constant checking of the time throughout first, second and third period. It truly seemed that the clock would never turn to 12.30pm! Finally, the time arrived. Year 12 was summoned to the atrium and wrangled into an organised fashion (by the tireless Mrs Griffin and staff going to Liverpool) and sorted into our respective groups. We were loaded onto the coaches, and we were off! Sometime later we arrived in Liverpool and settled into the luxury of the YHA youth hostel (which really was quite nice) but not for long! Soon we were released into the streets of Liverpool, hopefully not to the detriment of its citizens, and had two hours to do exactly as we pleased. I was part of a group that decided to take advantage of our close vicinity to the docklands and explored the illustrious Tate art gallery. Despite a bit of drama, in which someone thought a piece of art was supposed to be interactive (it was not) I'd say the visit was time well-spent! When our time of freedom was up, we went back to the youth hostel to take a coach to a bowling alley. Bowling was one of the planned outings, and what a fabulous pick it was! We not only had some entertaining games but many of us had time to explore the arcade also. A popular choice was the photo booth where many of us lived out our teen-movie-dreams and took lovely group photos. Along with a surprise drop-in from our Headteacher Mr Scott, it was perfect! After an enjoyable evening of bowling, we travelled back to the hostel and gratefully fell into bed, with lights off by 11pm sharp – of course.
As the sun dawned on a new day, Year 12 were already awake, well not really, but waking up on a weekend at 7ish (in time for an 8am breakfast) surely felt like it! However, we soon forgot about the wake-up time as we went down to breakfast and were greeted with a nice English breakfast, kindly prepared by the hostel. This set us up for our first item on the agenda, the Beatles tour! A trip to Liverpool would feel empty without forcing your friend to listen to you sing/talk about the Beatles, and a bus tour of course. We took some beautiful selfies and group photos at iconic landmarks, such as the Penny Lane sign and the Strawberry Fields gate, which were then promptly posted to Instagram. Nevertheless, if Beatles trivia isn't your thing (cough, Mr Wright) the tour also offered interesting historical facts about the city of Liverpool. For example, Liverpudlians get their nickname "Scousers" from a stew brought over by Scandanavian immigrants (the stew is called Lobscouse and can be purchased in many places around Liverpool). After a riveting tour we were dropped off near Liverpool One, where (arguably) the main attraction could take place. That attraction being shopping!
The shops in Liverpool are brilliant, and certainly received a lot of custom from our school. However, with eight hours (yes, eight!) of unsupervised free time not even the most devout shopaholic could spend their whole time in the shopping malls. Students also visited the many cultural sites that Liverpool has to offer, such as the art galleries, museums, and cathedrals. Some other common activities were escape rooms or cinemas. Liverpool is also home to some amazing cuisine, which I'm sure collectively, we all tried! As it got a little darker some of us visited the Liverpool wheel, which offered brilliant views. Nonetheless, we couldn't risk being late back to the youth hostel for fear of missing a spectacular pub-style quiz! The quiz proved to be highly amusing with some Grammy-worthy performances from Mr Wright (and heckling from Mr Pointon) as well as some enthusiastic choruses of Taylor Swift. Although the teachers managed to slip in a few subject-specific questions, the quiz was a brilliant end to a fantastic day.
As we woke up to our final day in Liverpool, we couldn't help but think of how the time had flown. After breakfast we headed out, to enjoy our last moments in the city! At 12:30pm we headed back to the youth hostel, collected our bags, dragged ourselves onto the coaches and started the journey back to (our adored) Newport Girls'. This trip was truly an unforgettable experience, in which many of us made fantastic memories that will last a lifetime, and perhaps started friendships that will, too. I speak on behalf of the entire year that went when I say thank you to the incredible group of teachers and sixth form staff that gave up their weekend to take us (though it seemed like they enjoyed themselves too!) and wish them all the best for trying to top this trip next year!
Freya T, Year 12
---