10 October 2021
As part of the GCSE Geography coursework, our Year 11s enjoy a day in London at the former Olympic Village and Canary Wharf. Below is an account of the day from Amelia: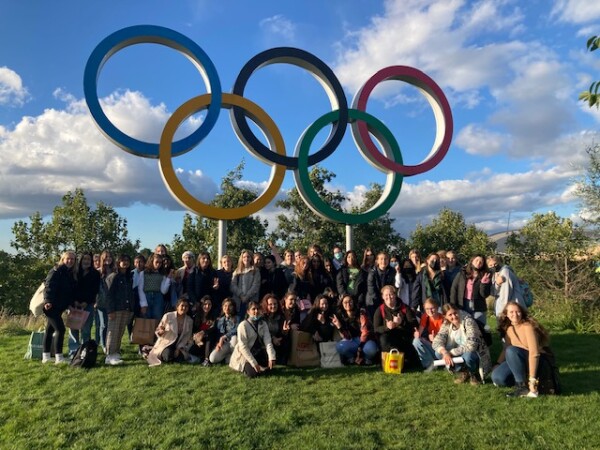 After rising before dawn with the early morning joggers - who we thought for a second were Mr Pimm making a last ditch run for it - two classes of geography students boarded the coach, Dave at the helm, and we set off.
We watched the sun rise, driving past a lot of trees probably and marvelling at the huge wind turbines ("Solar power!!… Amazing."- Cordy), arriving at Canary Wharf in good time. The museum was a converted 200-year-old warehouse on the Thames, in West India Quay with a lot of very interesting and relevant exhibits for our Docklands regeneration case study, and we especially liked the reclaimed boat stairs which were fun and also squeaky. Having regrouped outside, we walked through the Isle of Dogs to the entrance of No. 1 Canada Square to survey the highflying business people- renowned for being down for a chat- during their lunch hour. Surveying was surprisingly fun and spirits were high as we returned to the coach, having collected data on the people, the land use and the environmental quality of the area.
We arrived at Westfield Shopping Centre for lunch; some of us brought sandwiches; some of us bought 1 litre of strawberry milk and some of us just took one big, energising sniff of the lush store and coasted off that for the rest of the day. Rested and recuperated, we marched down the road to the Queen Elizabeth Olympic Park, another of the massive regeneration projects of London's East End we'd studied. We surveyed the general public, did a pedestrian count, filled out another environmental quality index and caused an absolute scene at the pavement fountains. We then toured the Aquatic Centre, surrounding nature reserve and velodrome all impressively built on a brownfield site having recycled 2 million tonnes of soil, and finishing at the Timber Lodge Café; an initiative to employ people with learning disabilities, where we stopped and discussed the conversion of the Olympic Village into the East Village and took a lot of pictures of bins whilst observing the street furniture. We found Dave and the coach, and travelled home as the sun sunk below the blades of the wind turbines and all the early morning joggers got back in their beds, and drifted off to sleep.
Amelia J, Year 11