30 November 2020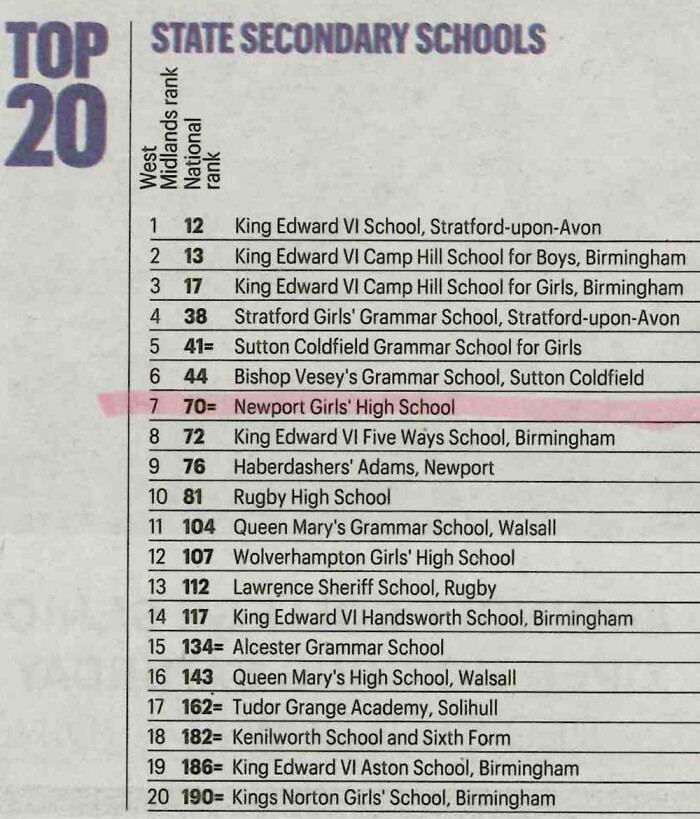 Newport Girls' High School has been ranked 70th in the country by The Sunday Times and is the highest performing school in Telford & Wrekin and Shropshire.
The ranking relates to the 2019 results at A-level and GCSE. In 2020, GCSE and A-level examinations did not take place and centre assessed grades were used to recognise student achievement.
As a result of the increase in the school's ranking in 2019, NGHS was named the West Midlands Secondary School of the Year. In 2020, 82% of A-levels were graded A*-B and 85% of GCSEs were graded 7-9.
Mr Scott, Headteacher of NGHS heralded the school's ever-improving examination results. "The upward trend of our school's results from 2018-2020 is very evident and testament to the hard-work and collaboration of all of our students and staff. NGHS is the highest ranked school in the north midlands and we are delighted to see this reflected in the league tables".
NGHS has changed its admission policy for 2021 to include fifteen places for pupils who receive pupil premium support. The school is expanding to 120 girls in a year group and is commencing a building project in January to create a new dining hall, kitchen, science laboratory, ICT suite and four additional classrooms. Please click here for more information.