10 August 2021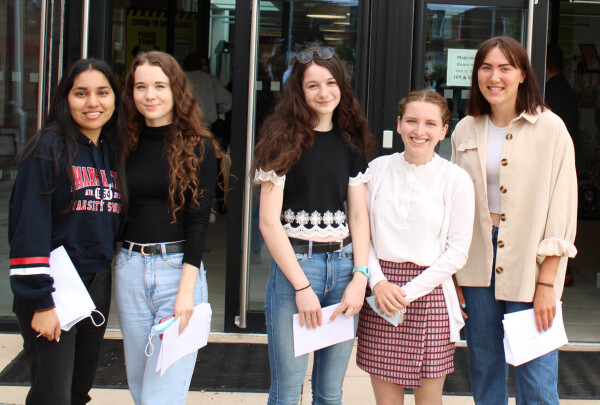 Relief and celebration were both etched onto the faces of NGHS students today as the long-awaited A-level results were released. Following eighteen months of national disruption including online learning, periods in isolation and uncertainty over whether examinations would happen or not, NGHS's class of 2021 has produced work of exceptional quality which was marked, moderated and externally verified to yield outstanding results of which we are all very proud.
This year, 85% of A-levels were graded A*-B with 65% of these A*-A. The School's pass rate of 100% was maintained. Whilst this day is not all about statistics, each subject has its own reason to celebrate, for example:
Every student in Art and in Product Design secured an A* grade
In German and in Music, a clean sweep of A* and A grades was achieved
In English, 72% of candidates secured grades A*-B
In Physics, half the cohort achieved A*s
In Computing, half the grades were A* and 100% secured A*-B
In Geography, every candidate achieved A*-B with almost half securing A*
In Chemistry, almost a third of grades were A*
In Philosophy, every candidate achieved A*-B
In Biology, 81% of candidates achieved A*-B
In French, every candidate secured A*-B
In History, almost half the grades awarded were A*
In Further Maths, 70% of candidates secured an A* grad
In Economics, all students achieved A*-C with 80% at A*-B
In Psychology, 96% of students achieved A*-B
Headteacher, Michael Scott paid tribute to the class of 2021 and their teachers: When this cohort moved into Year 12, no-one could have foreseen the difficulties they would have to face in three national lockdowns. Back in spring 2020, NGHS sprang into action with online learning provision for every subject and this has been reignited during each subsequent lockdown or period of isolation. The resolve of our Year 13s to battle on regardless and to continue producing work of exceptional quality is why we are delighted to be celebrating with them today. Their teachers have also gone way above and beyond what would normally be expected to grade and moderate set pieces of work. The JCQ and Exam Boards evaluated our approach and moderated students' work and I was delighted to learn that they had no further questions for NGHS. Students can therefore be satisfied that their hard work and effort has been duly and fairly rewarded.
This year, 34 students achieved all of their A-level results graded A* or A. The additional Extended Project qualification, taken by almost all students to complement their A-levels, also saw fantastic results (for the fourth year running) with 37% of students securing an A* grade, which is worth half an additional A-level. Whilst these performances are truly outstanding, we are keen to recognise the fantastic progress that all students have made, with some students having scored an average of grades 6-7 at GCSE, but have gone on to secure A-levels at Grade A*-B in their three chosen subjects.
The Class of 2021 are venturing off to universities from St Andrews to Exeter and will study a range of disciplines from medicine to archaeology, marine biology to politics and paramedic science to history. We wish them all every success and congratulate them on their fine achievements.
---