12 August 2021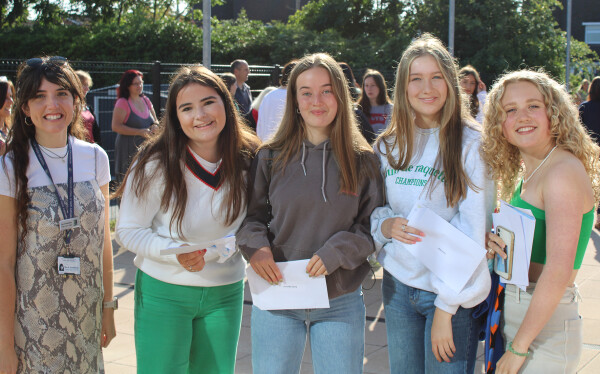 A group of Year 11s celebrate with Mrs S Tomkinson, Head of Year
NGHS is once again celebrating a phenomenal set of GCSE results and retains its place as one of the UK's leading girls' schools. This year, 86% of GCSEs were graded 7-9 (A*-A) and every student achieved Grade 9-5 in English and Mathematics. The results add over one grade of progress to national forecasts and were determined, and externally verified, from assessments, coursework and examinations in line with national policy. Over half of the subject cohorts achieved Grade 9s in Art, Computing, Product Design, Geography and Music and, in the demanding Level 2 Further Maths course taken by a third of the cohort, only Grades 7-9 were obtained through terminal assessment alone.
Special mention must be awarded to Emily Spencer who received a clean sweep of Grade 9s as well as a further six students who achieved at least 9 Grade 9s and 1 Grade 8. The GCSE class of 2021 achieved an average grade of 7.9 in their GCSEs and over 90% were entered and succeeded in obtaining the English Baccalaureate (with top grades in the core of Maths, English and Science, a foreign language and a humanity subject).
Headteacher, Michael Scott was delighted to receive confirmation that the Teacher Assessed Grades had been unchanged after external verification and moderation: This year's cohort have faced not one, but three, national lockdowns as well as at least one period of year group isolation from school. They engaged quickly and successfully with our online taught provision and their enforced absences from school have not held them back. Their mock examinations were disrupted a little through quarantine and yet they continued to produce results of a remarkable quality. On behalf of all the staff and governors at NGHS, I congratulate our Year 11s on their exceptional performance and we are equally delighted that so many students are remaining at NGHS for their sixth form studies. Owing to their outstanding mock performance, an unconditional offer was made to all students to remain at NGHS and we know this was well received by our students. We look forward to seeing them back at NGHS6 in September!
---