3 October 2019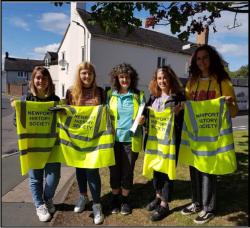 During the summer, four Year 13s were given the rare opportunity to work with an archaeologist and the Newport History Society, investigating the location of medieval burgage plots on Newport High Street. We met the group on the 25th August and the archaeologist explained what we would be doing (measuring the width of buildings in Newport), and so, we donned our high vis jackets and set off into the baking sun. We initially measured the buildings on the high street and were fascinated by how many period buildings there really were, as well as the history behind some of them. For example, Partridge Opticians' bay window is not original to the building and was added at a later date. After a short break for lunch, we continued measuring, with a few odd looks from members of the public as to why two teenage girls were measuring the width of B&M Bargains Store! We wrapped up later that afternoon, returned our high vis jackets and looked forward to what the next week would bring.
The next Sunday, we returned to the high street to complete the work. It was so interesting to measure the buildings we pass every day on our way to school but have never noticed before. I was also pleasantly surprised by the help of the locals as they saw us measuring the width of their houses. We engaged in many discussions with homeowners and this helped us massively; for example, one resident informed us that a terrace we were measuring used to be divided into six homes, and we also learned a little about Castle House School's history.
Overall, the experience was very unique, and one that we will take with us to discuss as we progress to higher education. We hope to follow up the work by helping the Newport History Society collate the data and our findings from these interesting days spent in the local town.