21 August 2020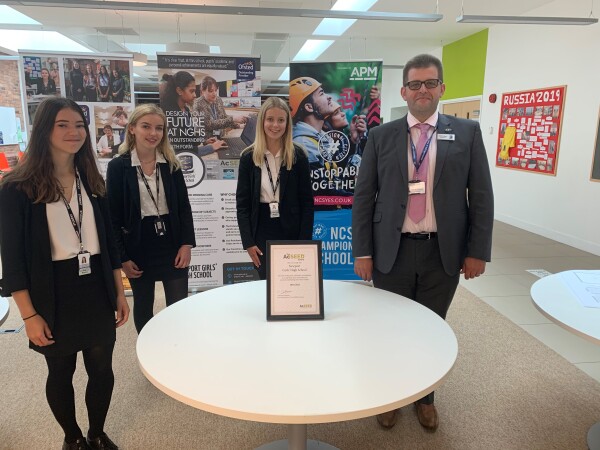 Mr Scott is pictured with the Award certificate and Head Girl Team students Ella, Minnie and Abbey.
Newport Girls' High School is delighted to have been recognised for its support of pupil and staff emotional wellbeing and mental health with The AcSEED Award. A rigorous assessment was carried out during 2019-20 of policies, practices and an evidence trail examined by the AcSEED Team. Charlotte Gatherer, the founder of The AcSEED Initiative commented; "AcSEED promotes the adoption of best practices in supporting the emotional wellbeing and mental health of young people in UK Schools and Colleges, and provides recognition for organisations that satisfy the AcSEED criteria for wellbeing support". During their review of NGHS's approach, the Team were particularly impressed by the strong wellbeing ethos of the School, their extensive health and wellbeing provision and their comprehensive emotional health and wellbeing curriculum.
Since joining NGHS three years ago, Headteacher Michael Scott has carried out a full review of pastoral care at the Wellington Road school. This includes a strengthening of pastoral and safeguarding practices, including the appointment of a new Assistant Headteacher who leads on wellbeing, two new non-teaching Wellbeing Officers and additional Heads of Year to support pupils effectively, both emotionally and academically. He commented: "We are delighted that our work in this field has been recognised by a national award. Our Ofsted inspection last year also highlighted this among best practice nationally and it is reassuring to know that we are considered worthy of a such a prestigious award. Staff wellbeing is also high on our agenda and our NGHS Staff Charter supports colleagues internally, whilst also drawing on support from outside agencies at times of crisis. The award is a tribute to the hard work of our wellbeing team of staff".