20 August 2020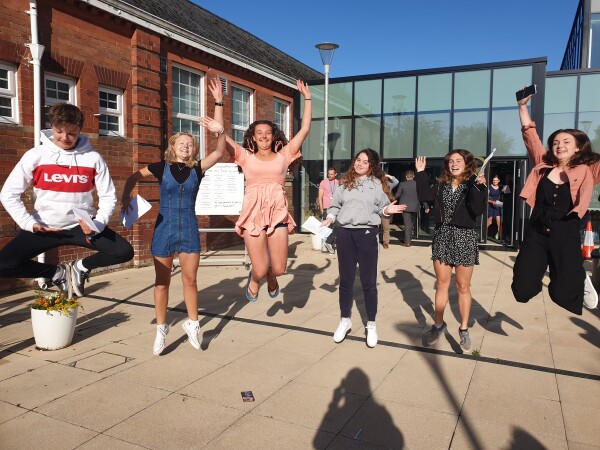 Newport Girls' High School is celebrating another outstanding set of GCSE results with three consecutive years of ever-rising results. In 2020, 85% of all GCSE results were graded 7-9 at NGHS with 100% Grade 9-6 in English and Mathematics. Besides these core subjects, this year's particularly strong cohort also demonstrated their practical skills with 100% Grades 9-7 in Design Technology, Art and Music. Every student at the school received an unconditional offer for Sixth Form following excellent progress and attainment in the Year 11 mocks, held before the Covid-19 lockdown started.
Headteacher Mr Michael Scott was delighted with the achievements of all Year 11s: "This year's results are a culmination of many months of uncertainty and anxiety. I would like to put on record my congratulations to our Year 11s and to their families who have helped them cope admirably with recent months' developments. We look forward to welcoming the significant majority of students back to NGHS in September to commence their A-level studies".
Particular congratulations are extended to Anjaly, Honor and Jessica W who achieved an astounding 9 x Grade 9s with two of these candidates also attaining a Grade 9 in Further Maths L2 and the third a grade 8. In total, out of 84 candidates, 23 students only achieved Grades 8 or 9 across the board with 56% of the cohort achieving nothing below a grade 7 (in former times A*-A grades). These are particularly outstanding achievements.
Some highlights from this year's results:
In Mathematics, 98% of Grades were 7-9 (old A*-A) and 100% achieved at least grade 6
In English, every student scored Grade 6+ with 81% attaining Grades 9-7 (old A*-A)
In Biology, almost one third of students attained a grade 9
In Chemistry, 88% were graded 9-7
In Physics, 40% were graded 9
In Art, 100% were graded 9-7
In Computing, one third of students attained a grade 9
In French, one quarter of students attained a grade 9
In our Further Maths extension L2 course, 90% attained a Grade 9-7
In Geography, the average grade attained was 8.09!
In German, 87% of students attained Grades 9-7
In History, almost 90% of students attained Grades 9-7
In Music, every student was graded 9-7 (old A*A)
Please enjoy viewing the photographs from today, which were taken with social distancing except in family groups.
---