14 December 2018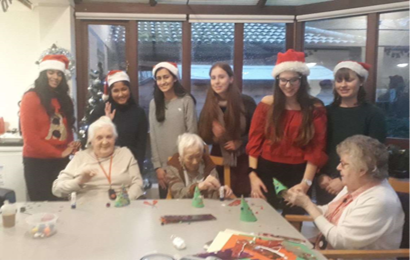 The Year 12 Medical Society began on 1 October 2018 for year 12 students who aspire to pursue a career in Medicine, Veterinary Medicine or Dentistry. The meetings are 30 minute long held every Monday at lunch.
The sessions include introduction to the careers, preparation for UCAS applications, advice on work experience & volunteering opportunities, UKCAT and BMAT university admissions test advice, ethical debates and more. The medical society's aim is to help students be successful at earning a place at their selected course at university.
We recently supported the local Cottage Christian Nursing & Residential Home to run a Christmas Craft session on a Saturday afternoon. This included initially making Christmas crafts with the residents, conducting Christmas games such as Christmas bingo with the residents, singing Christmas carols to and with the residents and having a Christmas tea with the residents. The event was very rewarding to us as it helped us to interact with the elders to make them happy and have a joyous Christmas. We also developed valuable skills that are useful for a career in medicine such as team work, care and effective communication. As an overall, we had an amazing evening at the care home with the residents.
We also fundraised to support this event with a Christmas Hamper raffle. A total of £75 was raised which helped us purchase the items necessary for the Christmas Crafts as well as food items and gifts.
We are very thankful to Mrs Griffin, members of staff at the Cottage Christian Nursing and Residential Home and for all others who supported us.
Y12 NGHS MedSoc