16 November 2018
Over October Half Term a group of sixth formers, together with Mrs Gill, Mr Pimm and Mrs Dainty departed NGHS to visit India. Here is their diary and photo gallery of the amazing and life-changing experiences they enjoyed.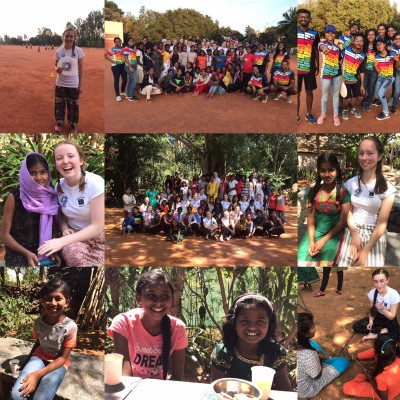 DAY 1/2 – Wednesday 24th October/Thursday 25th October – Rosie P
On the Wednesday morning, we all met at school at 7am bright and early, excited for the long day of travelling ahead of us. The journey down to Heathrow went smoothly and we were soon at the airport, checking in and going through security. After we had boarded the plane and settled into what would be our seats for the next 10 hours, we quickly found a list of films that we would watch to help the time pass. Several films and (for the lucky few) naps later we landed at Bangalore airport and made our way through customs. We were greeted outside of arrivals by two minibuses that took us on the hour-long journey to Sangam. This ended up being the best welcome to India that we could have had as, after arriving in the dark in the early hours of the morning, we saw the sunrise over the city and the villages and towns slowly wake up. When we reached Sangam, we were greeted by Kiran and Roshan, as well as the dogs on the Land. With many of us being very tired from our long day of travelling, we had a slow start to the day with some of us trying to sleep off the jet lag and others reading and settling into our new surroundings. Around late afternoon, we ventured out of Sangam on a walk guided by Kiran and Roshan and saw the local area, as well as meeting a few of the locals who showed us how they were adapting their farmland to the current climate, transforming it instead into other industries or selling it to property developers. We then returned to Sangam and, after sampling some more delicious curry for our tea, went straight to bed for what must have been the earliest night many of us had had in years.
DAY 3 – Friday 26th October – Eve G
After initially being woken up at 5.30am by the singing of the Church down the road, we were ready to begin our first full day of activities. The morning's cycle ride started out as a look over the picturesque scenery and an introduction into village life, but after a few unscheduled stops, I think it's safe to say that we didn't make it to the lake that day but the flexibility of the trip meant we'd definitely see it at some point. With everyone arriving back at Sangam, we tried our hand at Rangoli. It was much more difficult than it looked and the dogs rolling in the quartz powder didn't help much either, but we managed to create a few which looked excellent for our first attempts. After lunch, we tried our hand at pottery, and although most of our creations didn't make it home in one piece, we all had great fun making them. After dinner, we all chose an item of Indian significance from the temple room (figurines, jewellery etc.) and were able to ask about its origins. Sitting around the campfire that night and hearing Kiran talk so passionately about his country, cultures and traditions was definitely one of the highlights of the trip.
DAY 4 – Saturday 27th October – Sophie H
On this day, we travelled to Bangalore to explore a transect of the city, and to take in the markets and shops, including Fabindia. On the way there, we stopped off at the site of a Hindu shrine which are found all over both the rural and urban areas of Bangalore. These are always placed next to a Peepal tree which is worshiped in the Hindu religion- this particular shrine was dedicated to the snake as they symbolise rebirth, transformation, and healing. It was a beautiful place and had a calming effect on anyone who visits it. We continued with our journey and eventually arrived in Bangalore; the city was bursting with life and there was so much to take in- no one knew where to look. Firstly, we stopped at a restaurant and the food was given to us on a Banana leaf; the flavours of the food were amazing and the chefs kept trying to give us more and more food until we nearly burst. We made our way from the restaurant to the market where we got to experience city life in India for the first time, a vibrant and busy lifestyle which still maintained a sense of community. We went around the market which was a great experience as the stools varied so much from jewellery and clothing to souvenirs. We then made our way through the tight security at the metro station to travel to Fabindia, a shop almost like M&S or John Lewis. There was a wide range of beautiful ethically made products to buy and most of us spent a large chunk of our money on all the amazing goods there. We travelled back to Sangam, after storing up on snacks, having had the best day on the trip so far and fully experiencing the mesmerizing Indian city of Bangalore.
DAY 5 – Sunday 28th October – Emily V
On Sunday, the girls from Baale Mane girls home came to The Land. We all split into four different groups and hosted different activities which included making friendship bracelets, playing netball and introducing them to new games such as bulldog. The Baale Mane girls were not afraid to take charge as they taught us songs such as Gigolo. But before we knew it, the girls were deciding their own games, making use of the table tennis, playing with the dogs on site or simply chatting with us. After a lunch getting to know the girls further and learning how to eat with our hands, everyone walked over to a local school ground to play frisbee with volunteers from team 'Doesn't Matter' who travelled all the way from Bangalore University. Again, everyone was split into groups and had a go at different frisbee based games, including a game with similar rules to football and a competition to hit down cones with our Frisbees. Due to the heat, many of us were very tired and sweaty but luckily for us, Kiran soon returned with his car full of fizzy drinks and ice lollies to keep us going. After saying our goodbyes to the Baale Mane girls, we watched a demonstration of the Ultimate Frisbee game and some of us had a go too, with NGHS impressing the team with netball skills that proved useful in the game.
DAY 6 – Monday 29th October – Rachel N
We were half way through our trip and an early morning saw the group of us set off towards Mysore, giving us time for stops along the way before we reached our final destination. Our first stop was a sugar plantation where we were given our own sugar canes to dig our teeth into and took shots of sugar sap (if we dared). We then made our way to a Jainism Temple in Shravanbelagola where we had to make our way (barefoot) up 6,000 steps all the way to the top. It was a humbling experience to witness a confirmation-like ceremony of two young children at the foot of the massive (and anatomically correct) Gommateshwara statue that stood proudly overlooking a magnificent view. We then made our way towards the city of Mysore where we stopped at a small restaurant for lunch, having a dipping platter of different sauces followed by ice cream. After a long journey, we reached our hotel in Mysore which reminded many of us of the Real Marigold Hotel. However soon enough, we were back on the coaches, this time travelling to a local superstore that was three stores high and contained multitudes of food and other goods. Despite the mass appeal, our favourite part of the shop was what waited outside; a stall where two men were drawing henna on people's hands. Some of us queued for over an hour to get the amazing patterns but it was definitely worth it, and soon after, we made our way to an Italian restaurant around the corner where we dined on pizza and pasta. To end the day, we raided the shop next door to the restaurant where there was an opportunity to buy statues, incense and clothing before we made our way back to the hotel.
DAY 7 – Tuesday 30th October – Orla O'B
We began the day with a visit to the beautiful Ranganathittu bird sanctuary. In two boats we set off on our trip upon the water. The birds were incredible but the closeness of the occasional crocodile definitely kept us on our toes. After that, we continued our road trip from Mysore to the rainforest, stopping at Café Coffee Day, an Indian coffee shop chain where we enjoyed some questionable masala banana chips. Our journey also included a beautiful drive through a wildlife reserve where we saw signs for elephants, but we never thought that we would get to see the real thing. After passing some deer and monkeys, our hopes were raised and soon on our right we saw a mother elephant with her calf. We were all in absolute awe. Our journey continued until we reached Gouri Farm. We were given the warmest welcome and, after a delicious meal (which we all ate with our hands after learning from the Baale Mane girls), we were taken on a stunning walk through the Nilgiri (blue) Mountains, where we met some very kind locals, to whom we were quite out of place. We were led by John, an expert in spiders, who taught us a lot about the massive ones that seemed to be in a web between every pair of trees, and even above our heads. For dinner, Ankoor kindly welcomed us into his home where we had been prepared an incredible dinner complete with a local dessert. We all left with full stomachs and ready for sleep after an unbelievable day.
DAY 8 – Wednesday 31st October – Katie P
After our first night at Gouri farm, we took the minibuses out for a full day of activities. Following a quick stop to look out over the magnificent Western Ghats, we arrived at a gold mine where locals create shafts in the ground in the hope of finding some gold. This event is often rare but has a good pay-out and could be considered a type of gambling. Beetroot-and-rice-wrapped-in-a-banana-leaf packed lunch in tow, we then trekked diagonally down rather steep hills until we reached a beautiful hidden waterfall at the bottom. At this point we all walked on strategically chosen dry rocks through the stream, swatting away the leeches with our hands and shoes in order to find a spot to eat our lunch before one by one plunging into the small pool below the waterfall. After this (and for some of us a power nap on the minibus) we arrived at the warm-welcoming tribal school, where we met so many happy, energetic tribal children. Following a choir of powerfully sung tribal songs and our surprise rendition of Wonderwall, the children were determined to teach us their dances. Some of us were better at picking up the dances than others (shout out to Mrs Gill) but being able to see the children as well as the group of us all dance together was truly something special. After receiving our very own handmade bracelets and ear rings, we had to say our goodbyes to the children which involved many hugs and high fives.
DAY 9 – Thursday 1st November – Alice W
Following our two night stay in the rainforest, it was time to head back to Sangam. After breakfast, we said goodbye to the guides and chefs who had made our stay so special. We then boarded the buses and left Gouri farm in the rain, beginning the journey north which allowed us to catch glimpses of the busy lives going on in the passing towns. During the day we made numerous stops, one being to look at rice paddies and enter a small factory where the rice is milled. The next stop was at Somanathpura. We drank fresh coconut milk from the market, then entered Chennakesava Temple. It was dark, with intricately carved stone, blackened where it had been touched by visitors for centuries. Shrines to three incarnations of the Hindu God Vishnu were set back in alcoves and outside, friezes of Hindu scripture decorated the walls. Later, in a rural village, we made our way into the property of a silk worm farmer. Outside were rows of bamboo frames where hundreds of silkworms fattened on mulberry leaves. Inside, similar frames where dotted with white cocoons, spun by the larvae with their silk. Finally, after two more hours travelling, we were happy to recognise the streets of Silvepura. Back at Sangam, we ate and reflected on our stay, preparing ourselves for our final day that was to follow. Our night ended with the whole group (including the dogs) spontaneously meeting on the roof terrace where we made our own friendship bracelets and listened to music before bed.
DAY 10/11 – Friday 2nd November/Saturday 3rd November – Rachel N
Our final full day in India was a lot more relaxing than many of the others, giving the group of us the opportunity to absorb and take in our surroundings for the last time. At around 10am, we headed out once again in the minibuses to a market about an hour away. Once we arrived, we were thrown into a completely new atmosphere. The hectic nature of the market was overwhelming yet soon enough we all adapted into the environment, haggling with market sellers and taking in all the smells of the spices. We then travelled back to Sangam for lunch which, you guessed it, was a curry. Following this, we made our way into the town surrounding the Land where we had ice lollies. We then proceeded to investigate a festival that was occurring within the church grounds that involved the decoration of graves using flowers and incense. We then spent a relaxing afternoon journaling and chilling out before our final meal which was followed by a quiz hosted by Bea and Alex. It is safe to say we all showed our competitive side in that quiz and the quote round was an absolute hit. We then spent the evening packing and trying to sleep but the 2am wake up to get to the airport did not prove popular. As we waved to Kiran and Roshan while pulling away from Sangam, and even while we were in the airport waiting for our plane, we were all full of mixed feelings. It was sad to leave such an amazingly different country as despite missing the comforts of home life, many of us would have loved to have stayed and explored more that the country had to offer. After all, as Emily Jenkins put it, it is one big India.
---