21 December 2018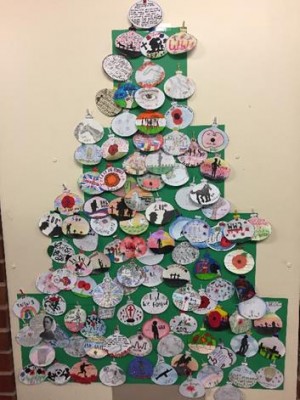 With 2018 marking the centenary of the end of the First World War, the History Department decided that it would be most fitting if the theme for our annual Christmas bauble competition were based on commemoration of those who served during this conflict. We have been absolutely thrilled with the many creative and thoughtful entries this year, with baubles truly commemorating all those who served, including soldiers from the empire and commonwealth whose contribution has often been overlooked and animals such as dogs, horses and carrier pigeons. I am sure you will all agree that the 'Histree' (pictured right) looks stunning!
It was a real challenge to select the winning baubles from all the amazing entries. Congratulations to every student who entered the competition! The designs were all superb and we were touched by the thought and care that went into them. Mrs Seys will also be embarking on a teacher fellowship program with the Historical Association in the New Year with a theme of conflict, art and remembrance. Your baubles will all be added to her scrapbook and taken to London in January to share with the other teacher fellows and course leaders.
The winning bauble designs are pictured below. Congratulations to Z Reynolds, S Mathews, H Thorpe, J Pham, S Smith and F Ejaz.