6 October 2023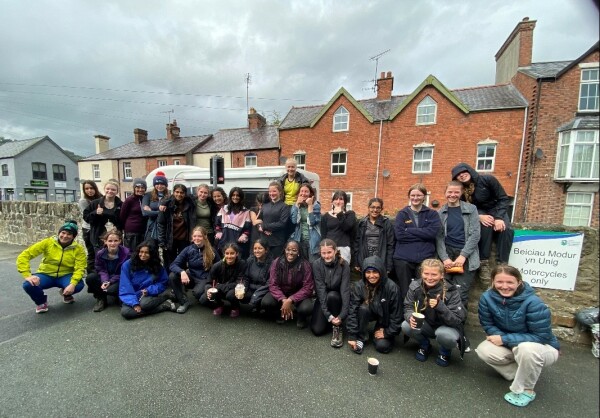 NGHS has some of the highest participant numbers in DofE in the region. Last weekend, our Year 11s undertook their Silver Qualifying Expedition. Our Well-being Officer, Miss Heyes, joined the group to observe their hard work and determination, as the report below shows.
I joined the Silver qualifying expedition with 5 teams of Year 11 students last weekend, and was hugely impressed by what I saw. On arrival in Llangollen it was obvious how much preparation the students had already undertaken. They were ready to navigate their teams (the imaginatively titled Red Hot Chilli Steppers, Save our Soles, Are we there yet? Dora's Explorers and Whale) through a series of checkpoints, and were already fully prepared with waterproof clothing, supportive walking boots, and huge rucksacks to carry their kit in. Matt Craig from Gateway Outdoors has worked with NGHS for many years, and he was on hand as the students stepped off the bus to greet everyone and introduce his team.
The teams set off armed with Ordnance Survey maps correctly oriented, the route across the hills marked out in black Sharpie, and compasses at the ready. I watched the teams disappear into the descending mist and drove with Mr Mason to the final checkpoint. We waited to meet students coming down from the forest to see them across the main road into Glyn Ceiriog. We topped-up water bottles and encouraged everyone that there really was not far to go.
Anyone who has ever felt tired and lacking motivation after a busy day at school or work will empathise with mission the teams faced as they carried their kit alongside the banks of the River Ceiriog to the first camp site. Here they could not rest and relax after their long day of hiking – there were tents to be pitched and hot meals to be prepared on basic camping stoves. I was invited to see the variety of pasta and noodle dishes that were being prepared. The teams worked together to plan the next days' routes, and, as darkness fell, everyone retired to their tents for an early night. Becky from Gateway Outdoors noted that the shower block and washing-up facilities had been left spotless by the weary teams.
Rain overnight meant that tents were soaked through, and needed to be packed away swiftly ready for departure. Route cards were inspected by the Gateway Outdoors team and I could see different tactics emerging – some groups preferring to press on and minimise breaks to arrive at camp early, whereas others recognised their need for regular breaks and allowed longer for their hike. It was great to see how close friendships between group members facilitated the supportive, positive atmosphere, and in spite of the difficulty of the challenge, there was a lot of laughter.
Day two ended in Llanarmon where the first group arrived well ahead of schedule. Wet tents were pitched to dry in the sun, and there was time to rest and chat before cooking commenced. The students told me that the day had been tough but they were now even more motivated to complete the challenge on Sunday. With Storm Nigel closing in, the camp fell silent, ready for yet another early start. Route cards, compasses and maps were all pointing to Llangollen for the final leg of the expedition, and every single student who attempted this challenge successfully qualified.
The Gateway Outdoors instructors reflected that NGHS students had been enthusiastic, organised and polite and a pleasure to be with, which was no surprise to myself, Mr Mason and Mr Wade who had been answering queries from locals all weekend about where our students were based and what they were doing. People were heartened to see young people committing themselves to such a challenging mission and were full of praise for their behaviour. Well done to each and every one of the Year 11 students who completed the expedition – a huge personal challenge in itself, but to have left such a positive impression on everyone along the way was something that made us all feel very proud. DoE promises to be fun, and I have no doubt that the students will have some fantastic memories of their expedition from time spent with their friends doing something truly challenging and inspiring.
Miss E Heyes, Well-Being Officer (Y11-13
---