12 July 2019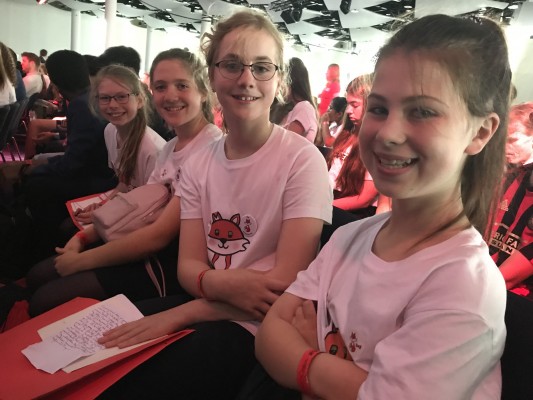 Newport Girls' High School students have clinched the title of National Enterprise Challenge winners at Wembley. The team of Year 7 students (Ava, Charlotte, Hannah and Bethany) worked together to bring a new mascot for Ryman stationers to life. Their creation, 'Ray the Ryman Fox' will now feature in stores and adverts nationwide. On Wednesday 10 July, the group travelled to London where they gave a flawless pitch to an initial panel of business experts at Wembley Stadium. After impressing the panel, they were thrilled to find out that they had been selected from over 230 schools to reach the final four. The excitement built as the team pitched in front of Theo Paphitis (Dragon's Den) and Kypros Kyprianou (Ryman's CEO) and the girls demonstrated a number of merchandised items to convince the judges that their concept was worthy of the overall prize.
Mrs Gill, who led the trip to Wembley is thrilled with the girls' work: "The girls showed complete command of their pitch and were congratulated by the judges for what they had achieved in just two weeks. It was a fantastic experience and a real team effort."
The whole NGHS community cannot wait to see Ray in our local branch of Ryman's and this comes at a time when girls engaging in enterprise activities is so important on the national agenda. The girls are true ambassadors the School and their families. We congratulate them on their triumph.

---