10 May 2019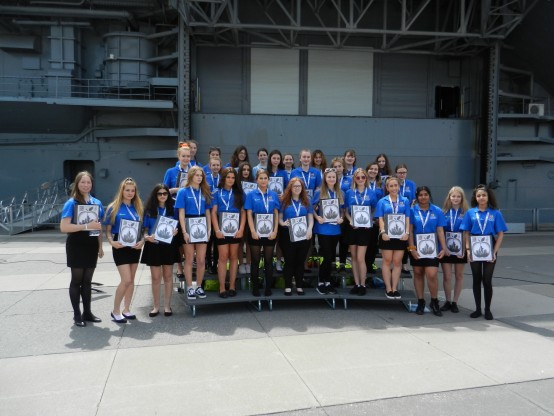 On Monday 22 April, in the early hours of the morning, a very excited choir and jazz band left Newport Girls' High School and headed for New York City. After a very long flight and spending a very long time checking into JFK airport, we eventually arrived at The Wolcott Hotel. Once settled in, we walked through the absolutely incredible night time scene of Times Square to Ellen's Stardust Diner – where those desperate for a Broadway breakthrough, entertained us with amazing singing and dancing.
The next day, we were fortunate enough to take part in a musical workshop, with a Broadway star, where she and her talented singing teacher taught us a song and dance from the Broadway show 'Mean Girls' – which we were thrilled to watch that evening. After this once in a lifetime experience, we then headed to Central Park. After exploring the astonishing park grounds and the array of talent on display, we set up for our first concert at the band stand. It was a huge success as many passers-by stopped and listened to our very talented choir and jazz ensemble. Performing in Central Park to many other people, was an insane experience to be a part of and definitely one we will never forget. That evening, we shared in a delicious meal at Bubba Gump's restaurant before venturing off to Broadway to watch 'Mean Girls.' The production really was inspiring for us as young musicians and actors and in true 'Mean Girls' spirit, we really did see some very talented Broadway stars.
The following morning, we left the hotel to get the subway where we rattled through New York City towards the docklands. In the morning, we enjoyed a windy boat ride that toured around the famous Statue of Liberty and stopped by the historic Ellis Island. After lunch, we walked to the powerful 9/11 memorial, a vast space where the twin towers once stood that had since been replaced by the names of those who lost their lives, surrounding an immense waterfall. We visited the 9/11 museum, which was a thought-provoking experience, exploring the timeline of events and remembering the victims of the attack. For dinner, after walking through the vibrant, towering billboards of Times Square once again, we arrived at Planet Hollywood, a famous restaurant visited by celebrities and full of film props. Next, we excitedly made our way to the top of the Empire state, breath-taking views awaiting us.
On Thursday morning we arrived at our next concert destination, The Intrepid Air and Space Museum. Upon arrival, we experience realistic 4D flight simulation that left us quite literally blown away. We then began our second music tour concert on the bottom deck where the jazz ensemble and choir performed some of their musical pieces and so did a handful of solo performers. Despite our extremely busy schedule, we obviously incorporated some time for the obligatory New York shopping experience! We then headed home from one of the best experiences of our lives.
By Eliza and Charlotte (Year 10)