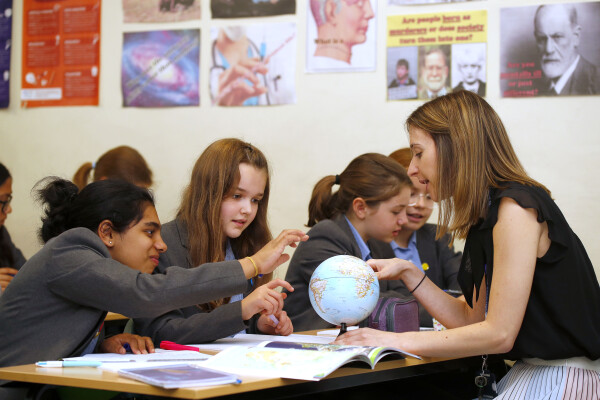 The geography department aims to ensure that all students develop a thorough understanding of the world around them, both in the physical environment and the human environment.
In KS3, our focus is on developing a detailed knowledge of different landscapes such as coasts; detailed country studies such as Russia, both the physical and human geography); and developing basic geographical skills such as working with maps and atlases. Students have 2 lessons a week in Year 7 and 8. In KS4 (which beings in Year 9), students opt to continue with this subject and the AQA examination board specification is followed which includes topics of both physical and human geography, as well as a unit on geographical applications which includes an issue analysis and fieldwork. Typically around 85% of students achieve Grades A*-A. In the Sixth Form, the department delivers the A-level course with the AQA examination board. Results are strong with approximately 80% of students attaining Grades A*-B in recent years.
Outside of lessons, students have the opportunity to extend their understanding through a wide range of fieldwork opportunities. These include visits to the Peak District in year 7, Carding Mill Valley in year 10 and the London Olympic Park in year 11. All A-level geographers attend a four-day fieldwork course in the Lake District. Every two years, students in years 9 and 10 get the opportunity to travel to Iceland, whilst the sixth form have the opportunity to go to South India, exploring physical, human and cultural aspects of the region.
Students are supported through lunchtime revision sessions, and the 6th form geography students run a geography club for the younger years. After studying A-level geography, students have regularly progressed to study the subject at university.
Learning Overviews can be downloaded below.