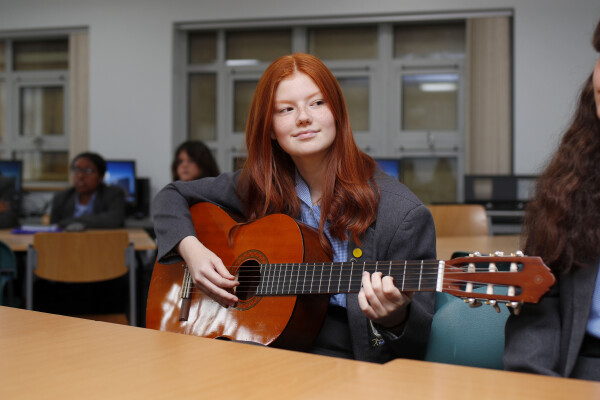 The Music department aims to ensure that all students are given an opportunity to broaden their knowledge of the eclectic musical world and to engage in a practical and theoretical study of the subject.
In KS3, our focus is on performance, composition and appraising. Students have one lesson a week in Year 7 and Year 8. In KS4 (which begins in Year 9), students continue with/opt to continue with this subject and the Edexcel examination board is followed which includes Performing (30%), Composition (30%) and Appraising (40%). In the Sixth Form, the department delivers the A-level course with the Eduqas examination board. As part of the A level course, students study The Western Classical Tradition, Musical Theatre, Music of the Twentieth Century as well as performance, composition and general listening.
Outside of lessons, students have the opportunity to take part in a range of extra-curricular activities including, Orchestra, Junior Choir, Senior Choir and Jazz Band. Students are supported through lunch time drop in sessions during which they can work on composition tasks and set work analysis. After studying A-level Music, students have the opportunity to read a range of subject areas at university such as Music Therapy, Music History, Performance and Composition.