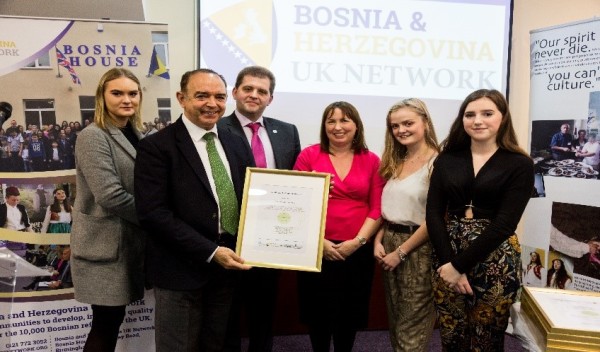 Headteacher Mr M J Scott, Mrs A Seys, Lead Teacher for UCL Beacon Schools in Holocaust Education and sixth form students Leonie, Maisie and Issy receiving a Remembering Srebrenica Community Champions Award from Lord Bourne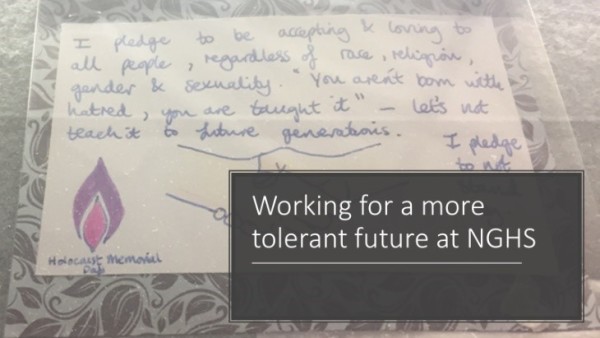 In his shocking and inspirational TedX Talk, Dr. Gregory Stanton, founder of Genocide Watch states that genocide in the twentieth century killed 200 million people; more than all of the international and civil wars combined. Stanton goes on to explain how genocide has not only hurt those communities who have found themselves targeted: 'All human beings are hurt by genocide. The elimination of any culture impoverishes all of us.' These words resonate with staff and students at Newport Girls High School, in particular members of our school Genocide and Human Rights Awareness Group who are determined to raise awareness about current and historical genocides and the circumstances that have enabled these. Members of this group have taken steps to educate others within our school community about genocides in Armenia, Cambodia, Darfur, Bosnia, Rwanda and Myanmar as well as the Holocaust through the creation of exhibitions, assemblies and presentations. They are active citizens with an awareness of the 10 stages of genocide and as such have also worked to raise knowledge and awareness of the actions of countries who are featured on the Genocide Watch map. Resources on the 10 stages of genocide have been especially useful in enabling us to draw connections between the Holocaust, which is taught about as an explicit unit in history lessons, and other genocides which are more typically discussed as part of our PSHE and citizenship programme, enrichment activities, including the extended project qualification and within the geography and RS curriculum. Regardless of whether we are teaching about the Holocaust or other genocides, the pedagogical principles of the Centre for Holocaust education are adhered to by all staff who understand the importance of humanisation of the victims, not using shocking images and using individual experience. Many of the staff within the school have benefitted from training run by the Centre for Holocaust Education which has made them more confident and skilled in delivering challenging topics such as these.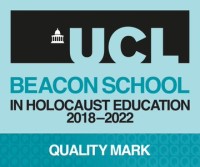 In 2017, we were designated as a UCL Beacon School in Holocaust Education, and in 2018 we became the tenth school in the country to be awarded Quality Mark status for our Holocaust and Genocide Awareness work. The detailed report regarding our inspection can be found here. Our Beacon School status has helped us in expanding and developing our genocide awareness work with students as it has built our network of links with other organisations and groups with similar goals to our own. Students have benefitted from being able to collaborate with students from other schools across the country, most notably through working with the Genocide 8020 group at Hampton School to produce and present about a textbook and a newspaper about genocide, which can be accessed here. Students have collaborated with other schools through taking part in a Time to Take Action on Bosnia workshop and legacy project run by the Centre's Nicola Wetherall at the Royal Wooton Bassett Academy and working with three other schools from the Midlands to share learning about the Srebrenica genocide. Through presenting to large groups of students and adults in unfamiliar and sometimes awe-inspiring locations such as parliament, our students have developed their confidence and have been inspired to become change activists who are passionate about raising awareness of issues and problems facing society. We are privileged to have met and heard the testimony of inspirational genocide survivors such as Safet Vukalic, Resad Trbonje and Eric Mwanbe. Our work with Remembering Srebrenica gave myself and three students the opportunity to visit Bosnia, staying in Sarajevo, travelling to Srebrenica and having the privilege of meeting the mothers of Srebrenica. The whole school were moved and inspired by what they learnt from these student ambassadors and we are proud as a community to have raised over £1000 towards the building of a new education centre for the Remembering Srebrenica charity and over £500 for the Most Mira charity which aims to build a peace centre in Bosnia.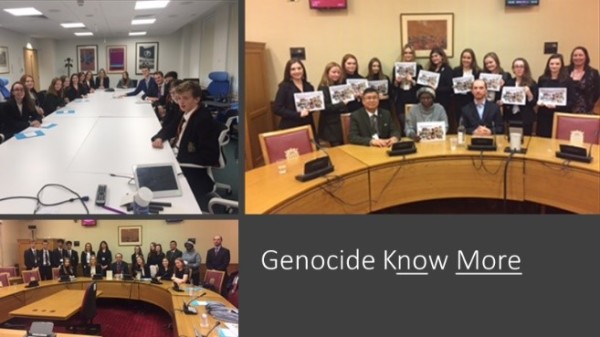 Our work to educate ourselves and to continue to raise awareness has continued in 2020. Our genocide awareness group produced a moving memorial flame and exhibition, which was displayed at Telford and Wrekin's service of commemoration to mark Holocaust Memorial Day in January. Two year 12 students were fortunate to attend this ceremony with Mr Scott and to hear the testimony of a survivor of the genocide against the Tutsi. They produced a series of tutor time activities to share this story with their peers and ensure that the whole school were able to commemorate the 25th anniversary of the genocide in Rwanda. In February, two sixth form students took part in Belsen 75 with Mrs Seys, attending seminars to educate themselves about the concentration camp at Bergen-Belsen before, during and after its liberation by British forces on 15th April 1945 and spending a day visiting the site of the former camp in Northern Germany. Despite the Covid-19 related lockdown disrupting their original plans for sharing their learning through legacy projects in school, the students have produced a blogpost and a lesson Powerpoint about their experiences, which have been shared with online communities of history teachers, as well as producing an Instagram page to share their learning with their peers. Meanwhile, the human rights and genocide awareness group, newly renamed Girls Against Genocide, continues with its work in the face of school closures with group members working remotely to collaborate on a website aimed at raising awareness of genocides and of the group's work. We look forward to sharing the results of this work in due course.
Below you can find some photographs from Mrs Seys and three sixth formers' visit to Srebrenica in 2018.