There are so many ways we help and support students and parents with entry to Higher Education and Apprenticeships.
As well as taking our Year 12 students to Oxbridge Colleges, we also work closely with Admissions Tutors and welcome former students who are studying at Oxford or Cambridge to give their perspective about life at this prestigious universities.
You can also view our Careers Microsite for information about Higher Education.
Please see below a few examples of our support.
Year 12s visit Cambridge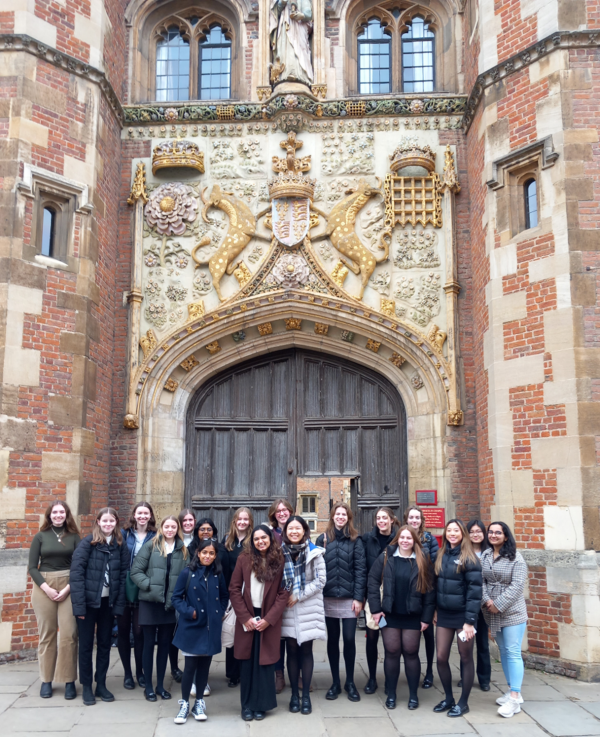 Last Wednesday, we got a glimpse of what our futures could look like on our trip to St John's College, Cambridge. Despite the 6:30am start and a 3-hour drive in the minibus and a people-carrier with Mrs Griffin and Mrs Taylor at the wheels, we were excited as to what we would discover.
After our arrival at St John's College, we were met by the amazing admissions officer Elsie at Old Divinity where we also got refreshments. We got the opportunity to have a Q&A session with some wonderful current students and have all of our questions answered. This has made us all focus really carefully on what we want our future to look like. We then had a tour where we saw the beautiful campus, chapel, accommodation and modern facilities whilst also discovering a detailed account of the college's history. Once we were re-energised with a delicious lunch we experienced taster lectures on the subject areas we wish to pursue in the future as well as some getting to visit nearby museums. We also got to see a brief glimpse of what the city is like and were captivated!
Abby said with regards to engineering "we had the opportunity to visit the Whippel museum in Cambridge, focussing on scientific models and what they uncover about the time they were invented. We were able to critically analyse these models and determine their relevance within the modern age of science; it was an insightful experience and something we would recommend to anyone interested in current representations of scientific advancements."
Overall, we would highly encourage others to also go on this type of trip in the future as you truly get a glimpse into what Cambridge is like and just how wonderful it is. Val P & Abby P (Year 12)
Enrichment Week

To start the week, all of Year 12 attended the UCAS fair in Birmingham. This gave us the opportunity to speak to lots of universities and find out about all the different courses they have to offer. It was a very insightful experience and being able to ask questions allowed us to start thinking about where and which courses we would potentially want to study in the future. The following day, the UCAS procedures were explained to us in great depth and with the help of Mrs Griffin and Mrs Hayes, we started our UCAS application. Their support made the initially daunting step much less overwhelming.
On the final day, we went to the University of Nottingham Open Day. Here, we spent the day viewing the accommodation, getting a feel of the campus and attending talks based on courses we want to potentially pursue. This experience gives us the ability to compare it to other university open days we attend.
Alumnae Support

Ex-NGHS student Gabrielle Farge recently returned to NGHS to give a talk to Year 12 students about her first year at Cambridge. It was great to hear how Gabrielle was enjoying life at university and her top tips for applications.