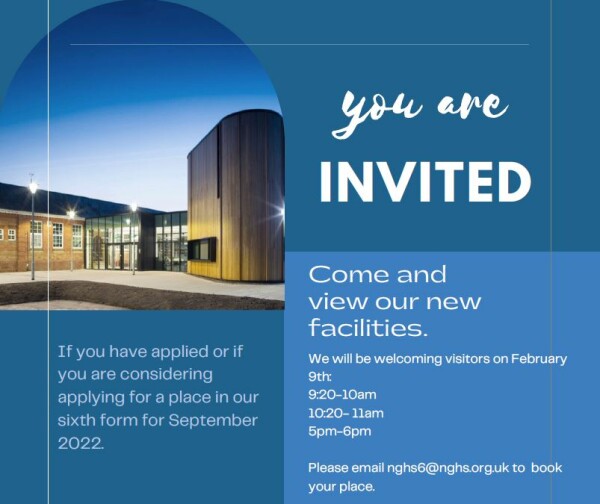 Thanks to our Selective Schools Expansion Programme, we have just opened a brand new building at NGHS. This exciting space includes:
Four new mathematics classrooms
A new chemistry laboratory
A new computer laboratory
A new dining room and kitchen which is open for sixth formers to use as an additional study space
A new English classroom
A new drama space which will be converted into a drama studio by September 2022.
We know that these facilities were not open in November when we hosted our Open Evening so we are delighted to offer the opportunity to come along on the times advertised above. Please email nghs6@nghs.org.uk to book your place.
Naturally members of the sixth form team will be on hand to answer any additional questions. Remember the deadline to apply to NGHS6 is on Monday 14 February 2022.
We do ask all those attending to have conducted a lateral flow test on the day of the visit to NGHS.
If you can't attend to view our new building, here is a virtual tour from one of our Head Girl Team, Ros.