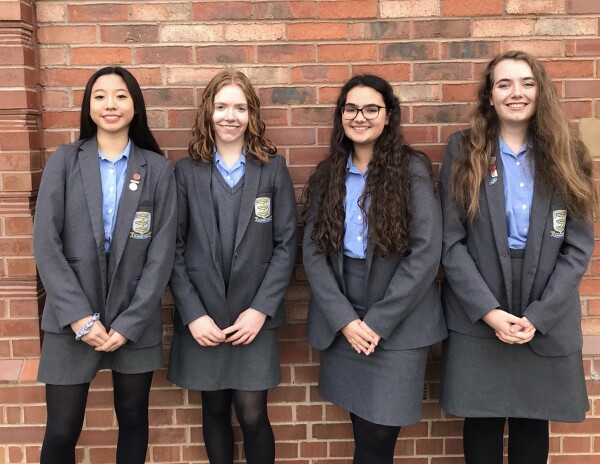 As our Admissions Policy attests, NGHS is a single-sex girls school. Much has been written about education in a single-sex and all-girls setting. Clearly this environment does not suit every girl and many parents across the country still benefit from this choice as girls schools (comprehensive, selective and independent) exist in almost all areas.
Some of the key considerations and findings in favour of an all-girls environment are given below:
Freedom from stereotypes: There is no such thing as a 'boys' subject or a 'girls' subject. Girls can follow their desires and inclinations without the pressure to opt for subjects other girls are choosing. Research by the Institute of Physics shows the larger take-up of science A-levels in all-girls schools than for girls in mixed settings. At NGHS around 70% of girls take sciences at A-level.
A-level Sciences: In all girls schools, around 75% of students choose Maths A-level and 70% select chemistry. 2.5 times as many choose physics as in a mixed school.
Freedom to volunteer: Teachers who have spent time in a mixed setting and then join NGHS often remark on the girls' willingness to volunteer and be themselves in class. The limelight is not taken away by the opposite sex, they are free to make mistakes and not be teased and they can develop their confidence comfortably in their surroundings.
Role Models: NGHS girls are surrounded by female role models - from their peers to older girls to the Head Girl Team to guest speakers, and of course many of their teachers (some of whom are former NGHS students). We are a welcoming family where every girl is known to her teachers as an individual. We foster positive and caring relationships within classes and year groups but also across the school, including through our recently expanded House system.
Academic Success: Some of the most successful schools (in academic results) are single-sex schools. We can tailor teaching and learning approaches to the style that many girls prefer. Clearly there is not a 'one size fits all' model or approach, but we know and understand the reassurance that most girls seek from taking notes, keeping records and being regularly assessed on material throughout the course rather than relying solely on terminal examinations.
Leadership Opportunities: Each girl has the opportunity to shine and volunteer with room to grow over seven years in a single sex school. Physical confidence and intellectual curiosity needs to be fostered and appropriate levels of academic risk-taking trialled. In the sixth form (outside of Covid times) we rely on our students to organise and lead enriching activities for our younger girls from mentoring to lunchtime clubs and sports coaching. Of course 'real life' isn't single sex but by giving our girls a strong sense of self-belief and a can-do approach, they will have acquired the life skills and self-confidence required to really succeed at university and/or the world of work.
Detail provided from independent research including by the Girls School Association.