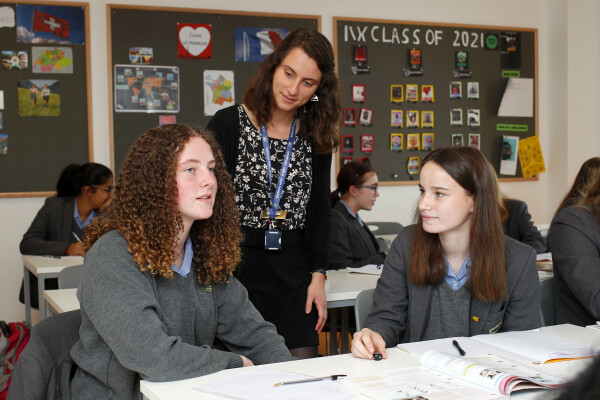 "Kolik jazyků znáš, tolikrát jsi člověkem." (Czech Proverb)
"We are fortunate to speak a global language but, in a smart and competitive world, exclusive reliance on English leaves the UK vulnerable and dependent on the linguistic competence and the goodwill of others." Nuffield Language Enquiry 2002
Have you ever really considered why language learning is important?
Here at Newport Girls' High School, we are privileged to teach French and German to girls who are very aware of both their surroundings and of different cultures. We are living in a forever-shrinking world – new technology certainly opens the doors for direct contact with other countries but this will never replace true, face-to-face contact with our neighbours. Other nationalities learn and use English because it is practical to do so, but we, as English speakers should not expect them to use it all the time. Linguistic ability amongst future medics, engineers, politicians, journalists, entrepreneurs, lawyers etc serves to make them stand out from the crowd and succeed in a demanding and competitive workplace.
At Newport Girls' High School, we hope to share our passion for languages and encourage the discovery of new cultures and countries. Not to learn languages is to be ignorant of the world around us. As teachers, we try to enthuse and engage our pupils through a range of fun, interactive and creative activities as well as more traditional methods. The key to any language is grammar and once mastered, it provides the stepping-stone to the world. We have four language rooms and five dedicated, specialist members of staff.
We believe that every student should have the opportunity to participate in visits abroad and experience using the language in real life and run regular trips including a visit to the Chateau du Broutel near Abbeville (Year 8) a trip to Nice and to Berlin (Year 10). We offer extra-curricular language opportunities through our Chinese, Italian, Japanese and Spanish clubs and participate in competitions, such as with the British Language Champions and the Linguistics Olympiad whenever the opportunity arises. We also host the Onatti theatre group who perform a play in French or German to Key Stage 3 pupils.
We celebrate European Day of Languages every September with a variety of events in school. In the past this has included a multi-lingual cake sale, treasure hunts, quizzes and lots of prizes. For the first time in 2018 we also celebrated the International Day of Francophonie by encourage other departments across the school to include French in their lessons for the day.
We truly believe that learning and using foreign languages leads to mutual understanding, to a sense of global citizenship and to personal fulfillment; the ability to understand and communicate in another language is a lifelong skill for education, employment and leisure in this country and throughout the world. As the old Czech proverb says:
"You live a new life for every new language you speak." (Czech Proverb)