9 October 2020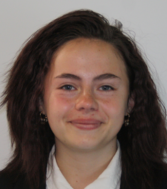 NGHS is delighted to congratulate one of our fabulous Year 12s, Gabrielle, pictured, who has been awarded a prestigious Arkwright Engineering Scholarship. The Scholarship is widely recognised as the most prestigious one of its type in the UK to inspire and nurture school-age students to be the country's future leaders in engineering.
Gabrielle is currently studying A-levels in Maths, Geography, English and Politics.
She writes:
After a year-long application process for the prestigious Arkwright Scholarship award, I received brilliant news last week that I had been accepted!

The scholarship aims to foster interest among young people in engineering and STEM careers, and provides funding for both pupil and school, along with exceptional work experience opportunities. I will be supported by a mentor from the Radio Communications Foundation throughout my time in 6th form, and given numerous opportunities to further my STEM knowledge through visits to engineering companies, meetings with other scholars, and volunteering.

The scheme has awarded only 5000 scholarships since its foundation in 1991 and I am fortunate to be able to participate in such a distinguished scholarship scheme, and would strongly advise any younger student to seek out opportunities similar to this one and pursue them wholeheartedly.