26 October 2018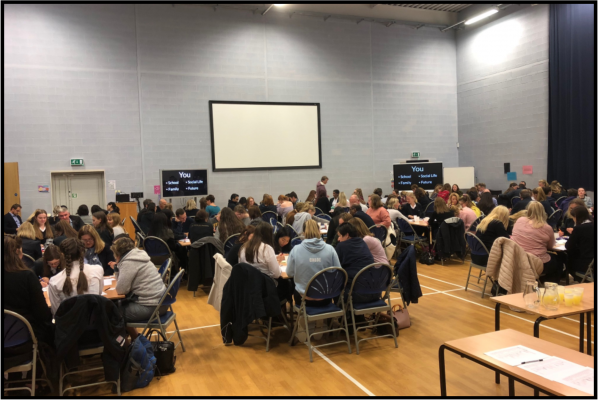 Last Monday saw almost all Year 11s drag a parent along for a night of revision tips and tricks from guru Tim Milner. Mr Scott, our Headteacher, had seen Tim in action in his previous girls' schools and knew that his ideas and tips had been well received.
Tim broke his session down into ten key aspects of good revision and the sessions were very active with the students being encouraged to trial ideas with their parent. The aspects included (among others) how to plan revision, looking after your body during the exams and techniques such as 'the right way to do Mind Maps' and 'Tweet Cards' were discussed.
Using real subject examples helped the students see how the tips and strategies could be used. There was a real buzz in the room and the strong orange squash and fizzy sweets kept everyone's sugar levels up!
At the end of the evening Tim received some lovely feedback from students and parents and we are pleased that the event was so helpful. Below are some quotes from Year 11s who attended the evening. Here's to even more success and an ever better approach to revision from our lovely Year 11s.
Tim kept the tone light-hearted. The evening was also useful for parents as many unintentionally overlook the pressure and amount of work that is involved in their daughter's Year 11.
I enjoyed how hands-on the evening was and there was plenty to take home from it.
Both my mum and I were captivated and engaged throughout the evening. Many of the methods I hadn't thought to try before. The reiteration of a healthy lifestyle despite exams was so important to hear from a professional. I truly believe his shared wisdom will improve my grades.