A Level Successes
17 August 2017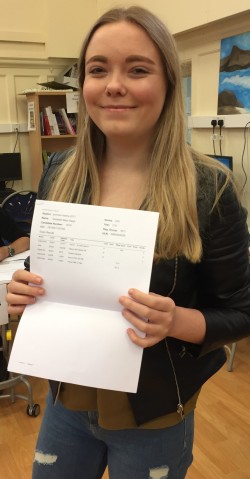 Congratulations to Year 13 for a fantastic set of results!
The results this year mean that there will be fourteen students from Newport Girls' High School going to university to study medicine, veterinary science or medically related courses such as dental surgery, midwifery, genetics and physiotherapy.
The top performing student is Elizabeth Bearblock who achieved four A* grades and will be studying medicine at Cambridge. Elizabeth Haigh also has a place at Cambridge to read Modern and Medieval Languages and she achieved two A*s and one A grade. Three more girls achieved three A* grades – Laura Newey (Veterinary Science), Francesca Storey (Medicine) and Isobel Cox (Politics and International Relations). Twelve out of 65 girls in total achieved all A* and A grades.
The success rate was 99% and 69.8% A* to B grades which is a 2.3% improvement on last year. The high success rate means the girls have secured their places at their chosen universities to study a wide range of courses including Medicine, Engineering, Law, Accountancy and Finance, Industrial Design and Technology, Psychology, Politics and International relations in addition to the more traditional subjects such as English, History, geography and Languages.
The girls have worked incredibly hard to achieve these results and the staff would like to congratulate them and wish them all the very best for their future studies.