Well done to all of our Year 11 students on your brilliant GCSE results!
25 August 2016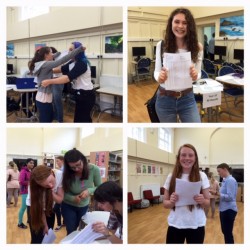 Year 11 have maintained the very high standards of the High School, achieving outstanding GCSE results again this year. The overall results for the school were 100% 5+ A*-C; 99.8% pass rate; and 75.8% A* and A grades.
There were 21 girls who achieved all A* and A grades, 15 of whom also obtained an A grade at AS level in ICT. 24 girls also took Further Maths, three of whom achieved distinction, ten gained A*, nine A and two B grades.
Our top performers were Harriet Gilbert, Simran Thiara and Katya Helliker whose overall performance was outstanding, all achieving A*s in every subject. Harriet and Simran also took Further Maths achieving A(Distinction), and AS ICT at A grade, whilst Katya achieved A* in her Music in addition to her GCSEs in school.
I am very proud of all the girls' achievements and of the staff for their commitment and hard work in supporting the students to achieve their best. I am sure the girls are now looking forward to starting their A Levels and these results should be a real boost to their confidence as they embark on the next phase of their school careers.
Ros Garner
Headteacher