Congratulations to Year 13 on your fantastic results
18 August 2016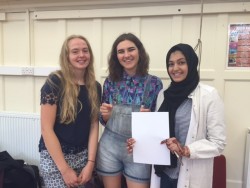 With an overall pass rate of 99.2% and 70.3% A* to B grades, both improvements on last year, it is not surprising that 92% of the students in Year 13 have successfully secured places on their chosen courses at university.
The increase in A*s from 10.9% last year to 14.6% also demonstrates the determination of even the most able students to work hard and strive for the best results possible. 15 girls achieved all A* and A grades and the top performing student is Philippa Morris who achieved four A*s, followed by Yasmin Wulkau with three A* grades and an A. Yasmin has a place at Imperial to study Chemical Engineering.
Many girls achieved above their target grades in one or more subjects and this is where the skills and dedication of the teachers facilitates the exceptional progress made by the students.
This year has been notable for the success of our four Oxbridge candidates who have all secured their places with outstanding grades: Philippa Morris will be reading Medicine at Cambridge; Jessica Llewellyn achieved three A*s and is reading Modern and Medieval Languages at Cambridge; and Yung-Hsiu Lin is reading Law at Cambridge having achieved an A* and two A grades; whilst Charlotte Oaks is reading History and English at Oxford with her results of two A*s, one A and one B grade.
What is striking, once again this year, is the wide range of courses and universities that the girls have chosen. Our Head Girl, Rida Azam (A*A*A A) will be studying dentistry at Birmingham, Isobel Bickerton (AABC) is undertaking a European Law degree at Maastricht, Ella Molin (AAAA) is going to Birmingham to begin her Drama and Theatre Arts course whilst others are studying marketing, midwifery, politics, maths, geography and more.
We are extremely proud of all the girls and the results they have achieved. We wish each one of them every success in the future and hope they will keep in touch and let us know how they are progressing.